Siemens Hearing Aids at HearCare Rhode Island
Siemens Hearing Aids began their long history of hearing technology innovation in 1878 with a telephone-based device invented by Werner von Siemens. Coincidentally, their latest hearing aid models connect with iPhones, Android phones and other smart devices, which increase accessibility for wearers in the digital age. Siemens is a leading manufacturer of high-quality, technologically advanced hearing aids, with a wide range of options to treat varying degrees of hearing loss. Siemens also offers hearing aids that connect via Bluetooth to audio-visual electronics. Their hearing aids are characterized by sleek, slim designs for both receiver-in-canal and behind-the-ear styles; certain models are compatible with their eCharger, a device which simultaneously dries out moisture from daily wear and charges the hearing aid battery.In 2014, Siemens introduced the Binax platform, a new collection of hearing aids that offer a binaural hearing technology, which improves quality of sound and space for wearers, and in certain challenging settings, the Binax outperforms normal hearing.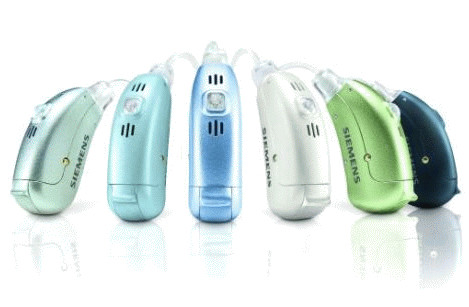 Launched in October 2014, Binax Bestsound utilizes new directional microphone technology that simulates natural binaural hearing. Based on two studies, one from the University of Northern Colorado and one from Oldenburg Horzentum in Germany, the Siemens Binax Bestsound platform gave people with mild to moderate hearing loss a 25% advantage over people with normal hearing to speech understanding in challenging environments.
This platform also features an exciting new innovation called e2e, in which a wireless system connects hearing aids on both ears to become an "8-microphone network" to offer high definition sound resolution. In addition, the Bestsound platform improves upon its predecessors in terms of wind hearing protection with the eWindscreen, which cleans up sounds that are processed by the hearing aid for clearer consumption.
Siemens offers the Binax Bestsound platform in both receiver-in-canal and behind-the-ear wearing styles, as well as custom fits. This platform is compatible with their tinnitus therapy technology, eCharger rechargeable battery unit (which also protects hearing aids by drying out moisture), as well as continuing their promise of improved speech function and spatial awareness with clear sound.
Click Here to Learn More About Siemens binax
Interested in Siemens Hearing Aids?
Contact us today to schedule a no-obligation hearing test and hearing aid consultation with our Board Audiologist.