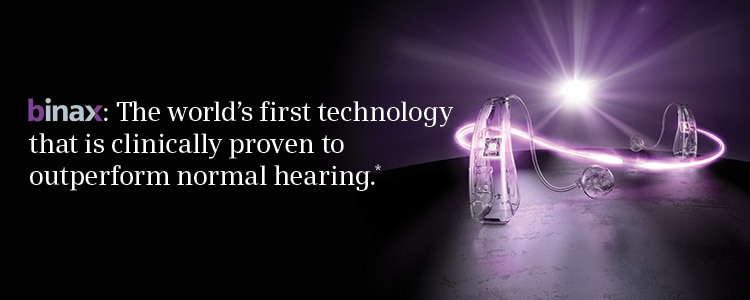 Siemens: Company Overview
With 130 years of experience, it's no wonder that Siemens has introduced the first hearing aid to outperform normal hearing. Siemens was founded as a hearing instrument manufacturer in Berlin, and began their innovative record with amplified telephone receivers.
In 1913, Siemens introduced their first hearing aids. The first behind-the-ear hearing aid was produced by Siemens in 1959, and the first in-the-ear hearing aid was introduced in 1966. In 2015, Siemens won the Gold Edison Award for the binax Smart Hearing Aid, the first hearing aid to outperform normal hearing.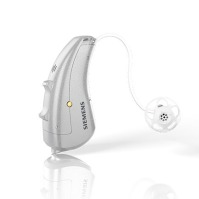 The binax outperforms normal hearing in challenging noise situations.

For those who experience hearing loss, the experience of being in noisy environments poses much difficulty. The Siemens binax addresses this experience head-on, as the first hearing aid to outperform normal hearing in challenging noise situations.
According to two independent studies (conducted by the University of Northern Colorado and the Hearing Center of the University of Oldenburg), people who wore the binax were able to hear more clearly and accurately than people with normal hearing in noisy environments. These environments include parties and busy restaurants.
Siemens achieves this innovation with e2e wireless technology, which simulates binaural hearing for binax wearers. Each binax hearing aid is equipped with four microphones – and between the two hearing aids, a wireless connection creates a network of eight microphones that balances and shares audio data.
Innovative Technology and Features
With wireless technology, binax hearing aids are able to connect to personal electronic devices, giving wearers better access to technology, media, and contacts. Through the touchControl app, downloadable for smart phones, wearers may make adjustments to program settings and volumes. Additionally, this connection allows binax hearing aid wearers to stream phone calls directly to their ears.
The binax is also compatible with the easyTek app, which allows wearers to focus on specific sounds and voices in conversations, and adjust the direction of the microphones for a better sense of one's spatial surroundings. The easyTek app also allows wearers to make adjustments to their program features and volume levels.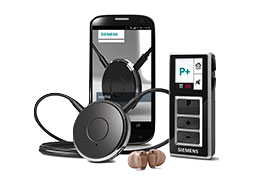 Narrow Directionality
With Narrow Directionality, the eight-microphone network allows wearers to focus on the sources of sound and speech from any direction. Audio data is received from a directional beamform, which gives binax wearers control of the direction of focus.
---
Spatial Speech Focus
To address speech recognition in hearing loss, the binax is equipped with Spatial Speech Focus features, which improve the experiences of cross conversation and multiple speakers, especially in busy environments. Spatial Speech Focus also suppresses background noise to improve speech intelligibility.
---
eWindscreen
With eWindscreen, the binax offers an automatic feature to reduce wind noise and also identify the direction of the wind noise. This feature is especially useful for those with active lifestyles who find themselves in the outdoors often. The eWindScreen feature automatically cleans and transfers audio data from the unaffected side to the windy side, creating a clear balance for the wearer in adverse weather conditions.
---
Styles and Other Features

Siemens' binax SmartHearing technology is available in the following hearing aid models: Pure, Carat, Ace, and Orion. These are available in many different wearing styles, from in-the-ear to behind-the-ear to receiver-in-canal to completely-in-canal.  Siemens hearing aids are fully customizable, with a long battery life, and treat a wide range of degrees of hearing loss. Siemens also offers tinnitus therapy to alleviate the symptoms of tinnitus.
Begin Your Journey to Better Hearing Today!
Contact us today to schedule a hearing test and consultation with Audiologist Laurie Duffy.